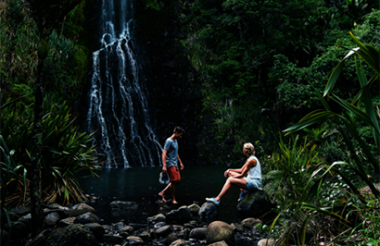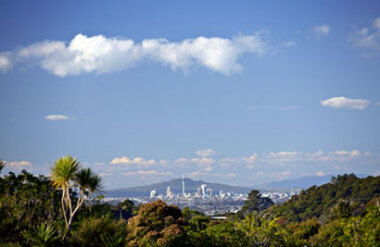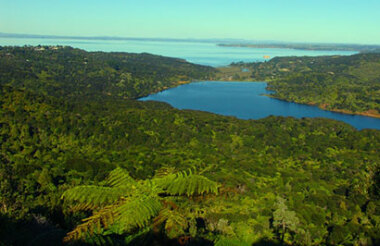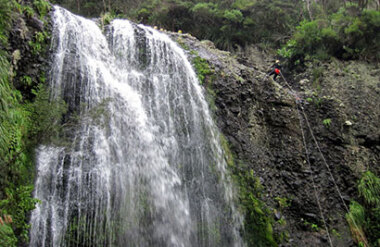 The Waitakere Ranges Regional Park is just 40 minutes drive west of Auckland City. The park covers 16, 000 hectares of native rainforest and dramatic coastline including the black sand beaches of Whatipu, Karekare, Piha and Te Henga. Originally rugged and unforgiving, the arrival of Europeans in the 1830's saw thousands of acres of forest destroyed as the versatile Kauri timber was harvested. Today the remains of the damns and tramlines used can still be seen.
The water here played a crucial part in the development of Auckland with five major reservoirs being built between 1910 and 1970. The park was born in 1900 with the purchase of land by the Auckland City council. This acquisition was primarily to secure water supplies but its scenic beauty was recognised and still thrills visitors today. It was christened Auckland Centennial Memorial Park in 1940 to celebrate 100 years since the founding of Auckland City. Over the years the park has grown through the gifting of lands by many generous donors. The Auckland Regional Council took control of the park in 1964, giving it the name it holds today: the Waitakere Ranges Regional Park.
The visitor centre on Scenic Drive is great place to discover the Waitakere Ranges Regional Park. Knowledgeable rangers and excellent interactive multi media presentations will show you the past, present and future of this wonderful area. Inside the main building are carvings created by Te Kawerau a Maki, the local Maori tribe and guardians of the region.
Welcoming you at the entrance is an 11 metre tall pou telling the story of the tribes ancestors and is one of the largest of its kind in New Zealand. Arataki or "pathway to learning" has extensive decks from which to see the panoramic views to Auckland City in the east and the magnificent bush of the Huia Valley to the west and south.
The local Maori, Te Kawerau a Maki, are the proud guardians of the land and their history can be viewed via the carved pou whenua located throughout the area. The Arataki Visitors Centre is a marvellous introduction to the park with many exhibits on display, depicting history, flora and fauna and its people. These stimulating activities are available to all.
Things to do:
Learn about the region, its people and its creation at the Arataki Visitors centre.
Enjoy short media presentations on the area.
Browse the extensive displays.
Take short walks through native bush.
View the ranges and regenerating forest from the extensive decks.
Enjoy the beaches of the West Coast