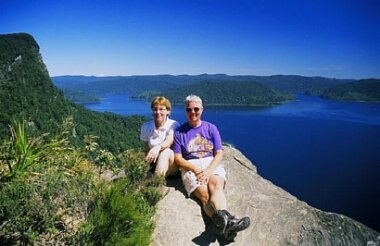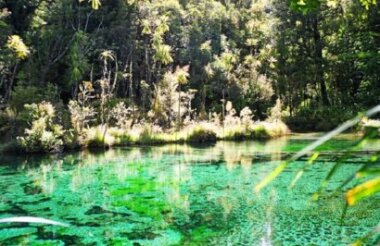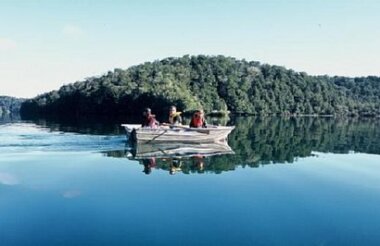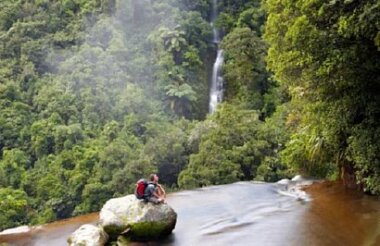 This was the last place to be explored by European settlers, and due to its rugged and remote nature it is still like stepping back 100 years in time. Journey deep into New Zealand's last frontier, where the mountains are cloaked in mist, mysticism and primordial forest. Walk some of the most spectacular sections of the Lake Waikaremoana Great Walk and extraordinary Whirinaki Rainforest, while staying in comfortable lodgings. Lake Waikaremoana is perched high in the mountains of Te Urewera National Park, amidst the largest area of untouched native rainforest remaining in the North Island of New Zealand. Difficulty: easy to moderate, flexible itinerary
Day One - Whirinaki Forest - 3 to 5 hours - Pick-up from your Rotorua accommodation approx 8am. A three-hour scenic drive follows ancient Maori trails into the heart of Te Urewera National Park and to Lake Waikaremoana. Stop in Whirinaki Forest for a 3-4 hour walk through the best example of NZ's native Podocarp forest. Towering trees including giant totara, kahikatea and matai, plus rare birdlife (kaka and whio: blue duck) as the trail follows a pristine river to cross above a thundering waterfall.
Enjoy an alfresco picnic lunch before continuing on to Lake Waikaremoana, where a short walk leads through some remarkable forest, providing great examples as your guide explains the intriguing story of the rata tree. Settle into your accommodation and savour pre-dinner drinks and nibbles on the lake-shore, before your hearty dinner.
Day Two - Lake Waikaremoana - 3 to 7 hours walking - Today's hike features some of the most spectacular views on the Lake Waikaremoana Great Walk Track. A 1.5-hour steady climb leads up to the famous Panekire Bluffs, where dramatic rock ledges provide expansive views over Lake Waikaremoana and the bush-clad mountains of Te Urewera National Park. Those looking for a challenge can continue climbing for a further 2 hours to reach the highest point of the Great Walk track, and the best viewpoint of the lake. Before dinner there will be an opportunity to visit a local marae for an informal chat with a Maori elder about the region's history and culture. This is a great opportunity to ask questions and to get a real feel for the culture in this isolated area, where Maori is still the first language.
Day Three - Lake Waikareiti - 4 to 6 hours walking - Take a picnic lunch and head up to the pristine Lake Waikareiti, which lies a further 300 metres above Lake Waikaremoana. Free of aquatic weeds and motorised boats, this lake has outstanding water clarity and is blissfully peaceful! Take a rowboat to a pest-free island, where a short walk leads to a tiny lake surrounded by lush forest and native birds. Returning to Waikaremoana after lunch you have the option of walking to a dazzlingly clear fresh-water spring, or following a lakeside track that weaves through caves that were inhabited by early Maori warriors. After dinner there may be time to walk to a lookout to watch the sunset over the lake.
Day Four - Lake Waikaremoana - 2 to 4 hours walking - Your journey back to Rotorua begins with a scenic boat cruise across Lake Waikaremoana, to complete another section of the Great Walk Track. A stunning forest and lakeside trail traverses from the secluded Wairaumoana arm of the lake across a peninsula, home to a Kiwi Recovery Program that is successfully increasing the numbers of our threatened national bird. Thanks to the pest-control in this area the forest is some of New Zealand's best. The track then meets an estuary, where you can see a variety of waterfowl. Stop in a small Maori village for afternoon tea, and close to Rotorua have a soak in an amazing natural hot spring beneath a roof of native trees (time permitting). Return to Rotorua by 6pm.
The above itinerary is a general outline. There are many more walks and interesting sites to choose from. Walking time per day can be anywhere between 2 and 8 hours, and the guides will tailor the walks to suit weather and track conditions, and the group's fitness and preferences.
Trip includes: All meals, snacks, hot and cold drinks, pre-dinner wine; Rotorua return transport; boat cruise; park fees; 3 nights twin share accommodation; linen, towels, soap; hiking equipment (packs, raincoats, etc.); marae visit; knowledgeable and experienced NZ guides. Dinners are hearty 2 course meals with a focus on NZ style cuisine. Breakfasts have cooked and continental options. Packed lunches are made fresh daily. Wine and other beverages may be purchased from the lodge dining room with dinner.